Just like Kneipp treatments, hydrotherapy treatments harness the healing power of water to ensure balance, well-being and life-force energy
The element of water always plays an important role in holistic health philosophies, whether Ayurveda, Traditional Chinese Medicine (TCM) or Kneipp therapy. Awareness of the effect of water is also the starting point for product development at Dornbracht. What drives us is the vision that every bathroom has the potential to be a LifeSpa. A space for staying on top of personal hygiene, but more importantly, our health. With appropriate wellness solutions for the home, water applications can easily be integrated into everyday life. Water therapy treatments as part of a health-conscious lifestyle make a significant contribution to overall health.
Benefits of water therapy treatments
At Dornbracht, we have collected everything we know about the positive power of water—and used it to develop products that transform your bathroom into your personal spa, where you can benefit from water therapy treatments whenever you choose. What unites all the product solutions beyond daily cleansing is the proven effect of the healing power of water. With Dornbract, you'll get personalized water therapy treatments which combine harmonious water, light and fragrance elements for a truly enjoyable experience unlike any you've had before. These private spa solutions are an invitation to relax, unwind, heal, and linger just a moment longer in total bliss.
Dornbracht has long researched the effects of hydrotherapy on body, mind and soul. In collaboration with well-known experts from Kneipp therapy, Traditional Chinese Medicine (TCM) and research into well-being, this knowledge has been transformed into innovative water applications and solutions that support a health-conscious life. Dornbracht responds to individual human needs and actively contributes to your own personal health and wellness strategy. We've developed water therapy treatments to successfully reduce pain, improve mental health, treat specific conditions, and increase overall health and wellness. All our Kneipp treatments can easily be applied in the comfort of your home.
Reduce pain
Untreated pain can have life-altering consequences including the inability to work, strain on relationships, and depression. Water therapy treatments at home provide effective, natural ways to relieve pain that can be integrated into your current treatment plan for better results.
Improved health
One of the most beneficial effects of water therapy on the body is an improvement in overall well-being through better circulation, more restful sleep, healthier skin, and a stronger immune system. Uncover a healthier you, and enjoy the experience in your own private spa at home.
Better mental health
The health of the mind has a direct impact on overall health. Hydrotherapy treatments are able to improve mental health through the reduction of stress, anxiety, insomnia and other issues.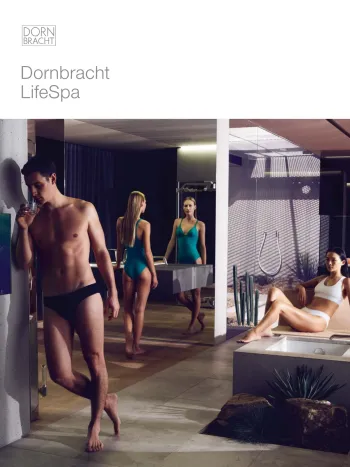 Dornbracht LifeSpa
Your bathroom becomes a wellness area
Discover more exclusive spa solutions by Dornbracht