The kitchen island and bar stool architecture combines country style with contemporary flair. In this open kitchen-cum-living room, modern and traditional elements of style are combined with taste and variety: Kitchen wallpaper, varnished wood and natural stone, together with stainless steel and geometric shapes, create some special touches. 
Light Linen
Oasis Brown Marble
Oak Wood & Asphalt
Screed
Kitchen Wallpaper
Transitional Style
The VAIA design fits harmoniously into this architecture between the established and the new – traditional shapes and modern elements turn the setting into an expression of individuality and timelessness. VAIA excels in its warm tone of Brushed Durabrass (23kt Gold), especially when combined with natural colours.
Discover the VAIA product world:
The diversity of kitchen design
The exquisite and unusual feel of the Brushed Dark Platinum finish draws attention to the progressive design language of the VAIA bridge mixer. The additional pull-down function ensures an extended radius of action, and makes working in the kitchen easy.
Your Space of Life
The kitchen is the place for creativity and experimenting. Somewhere to try out different flavours and cultural recipes.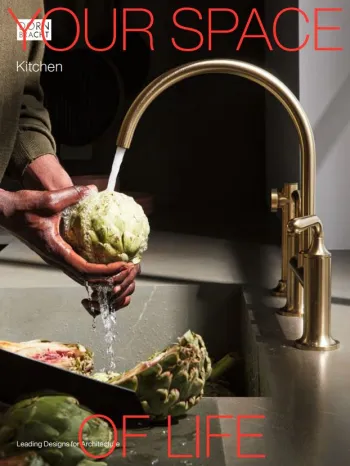 Our expertise for your kitchen
Discover ways to add value to your kitchen with Dornbracht fittings: "Dornbracht Kitchen" brochure.
Discover this and other design series